"July's Five-Fold Purpose"
Joyful & Meaningful WORSHIP
Faithful SERVICE
Compassionate EVANGELISM
Loving FELLOWSHIP
Intentional DISCIPLESHIP
Worship Service @ 9am

Adult Christian Education @ 10:45

Saturday Informal Service - Year-Round:

5:00 p.m.
Holy Communion Services:
Celebrated: each Sunday and the 1st, 3rd, and 5th Saturdays.
Service Of The Sacrament

The Lord's Supper was instituted by Jesus Christ.
In this meal, along with bread and wine, we receive His Body and Blood.
Those communing are baptized believers who confess their sins and plead God's mercy and forgivemess.
In the death and resurrection of our Lord Jesus, we receive forgiveness of sins,
and we are granted the new life in Jesus Christ.
Those who commune do so in this repentant posture, humbly receiving these gifts from the
Lord and resolving to live the new life in God's Holy Spirit.
NOTE:
Please let us know during the service if you cannot hear the Pastor or the Readings at any time.
You may tell an Usher, raise your hand and let someone know, or come to the Audio/Visual Room.
Risen Savior has an audio loop system for those with compatible hearing aides,
and individual amplification earpieces, but many times it may be just one of many
"buttons" on the audio board that has been turned off by mistake.
Thank you for your patience during our "transition"!

Daily Devotions from Lutheran Hours Ministries
Gather at Baptismal Font
Monday-Thursday at 8:00AM

We (whoever is here) gather at the baptismal font in the narthex for a brief opening devotion.
If you are on campus, please join us!
Schedule for those unable to attend services, and those seeking
the spiritual renewal of Our Lord and Savior, Jesus Christ:
is with our local radio broadcasts each Sunday morning. Please tune in to:
*_DIRECTV_* (TCT-Channel 377) - National and Worldwide: Sundays - 11:30 am EST; 10:30 am Central; 9:30 am Mountain; 8:30 am Pacific
Green Valley/Sahuarita Radio - KGVY 1080 AM
Selected portions of the previous Sunday's Risen Savior Worship Service - 8:30 a.m.
The Lutheran Hour - 7:00 a.m. on Sunday over KGVY 1080 AM. Also, you can listen to the sermon on-line - click on the Globe below.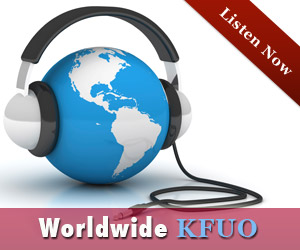 *** Del Coronado Congregate Apartments S.O.U.L. and worship:
1st Sunday of the month, 1:15 PM
*** La Posada worship: 4th Sunday of the month, 1:30 PM
(Please call Deaconess Jeri if you would like to help with these Ministries!)

NOTE:
The Tabs at the top of our Website are also Pages.
You can either click on the Tab Heading,
OR hover your mouse over it,
and choose a Sub-Page from the drop-down menu.