Informal Service: 5:00 pm Saturdays
Divine Service: 9:00 am Sundays
No Holy Communion at services during the month of June.
The office is open Monday through Thursday – 8:15 am – 2:00 pm
Please Note: 
Risen Savior has an audio loop system for those with compatible hearing aides and individual amplification earpieces.  Please let us know during the service if you cannot hear the Pastor or the readings at any time. You may tell an usher, raise your hand and let someone know, or come to the audio/visual room.
"Gather at the Baptismal Font"
Opening Devotion:
Monday-Thursday at 8:00AM
If you are on campus, please join us!
Off-Campus Sunday Serv

ice: 
• Del Coronado Congregate Apartments S.O.U.L. and worship:
  1st Sunday of the month, 1:15 PM
Radio and Television Services: 
Each Sunday morning please tune to:
• Direct TV (TCT-Channel 377) – National and Worldwide:
Sundays – 11:30 am EST; 10:30 am Central; 9:30 am Mountain; 8:30 am Pacific
•  Worship for Shut-Ins: http://www.worshipforshutins.org/
• Green Valley/Sahuarita Radio – KGVY  1080 AM –
   Selected portions of the previous Sunday's Risen Savior Worship Service
• The Lutheran Hour – 7:00 a.m. on Sunday over KGVY 1080 AM.
In addition the sermon is provided on-line.
Click the globe below for access: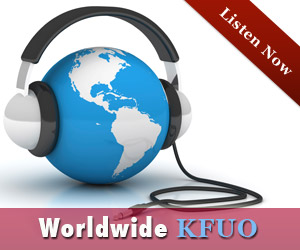 Daily Devotions from Lutheran Hours Ministries